March 8, the International Women's Day, is the universal day of women, when the achievements of women in the political, economic and social fields are marked, the past, present and future of women in the world are celebrated. The modern celebration of the Women's Day has no longer the goal of approval of equality, but is considered as a day of spring, women's beauty, tenderness, soul wisdom and attention to a
European woman
.
On the eve of Women's Day men are gripped with mixed feelings. On the one hand, there is a great chance to show your love to the beloved woman, and on the other hand, you need to solve a difficult problem and to choose a gift that will melt her heart.
Jewelry is a safe choice
The fact that the diamonds are the girls' best friend knows even a schoolboy. If the budget allows, you do not need a long time to puzzle over what to buy as a gift for your darling on the Women's Day. Jewelry tops the list of the most desirable gifts for women of all ages and professions. When planning to choose a gift in gold or silver department, it should be noted that the rings are associated almost by all the girls with a proposal of marriage. If a man has not yet decided on the choice of the bride or not considered in his girlfriend a potential spouse, it is better to give earrings, chains, bracelets or pendants. You can present a ring only in case if you see a girl in the role of a future wife.
Jewelry watch is a good gift; you can also pick up a beautiful poem, demonstrating to a ladylove your romantic nature. However, many women continue to believe that the watch is presented to the parting. To calm a superstitious girlfriend, it would be enough before the presentation to ask her give a coin, so the act of presenting will turn into a purchase and the sign will lose its strength.
Gifts for intelligent Ukrainian girls
Modern
russian women
do not limit their interests to knitting and cooking. The novelties of electronics and mobile equipment are not alien to them. Any girl would be happy to receive on March 8 brand new tablet, e-book or photo frame. The music-lovers would like a miniature media player or stylish headphones. Ladies also need USB-sticks to store and transfer data, music and photos. Every girl will be happy to get such a gift, especially if the flash drive is not in the standard case, but in the female one. It is easy to find a special version for the glamorous ladies, made in the form of pendants, lipsticks and hearts, decorated with stones.
If your beloved
ukrainian woman
is a business lady and does not like jewelry, it is possible to present her to the International Women's Day a good leather folder for documents or branded pen for signing contracts.
Gifts for fashionable russian women and beauties
If the budget of a gift is limited or it is not accepted to a couple to give each other expensive gifts, it should be paid attention to perfumery. Not to be mistaken with the choice of flavor, just look what kind of perfume your lover uses and buy those bottle which already ends.
To give cosmetics can only the man who is at least a little versed in the great amount of jars and tubes and knows the tastes of his ladylove. Otherwise, you should either abandon the idea, or discreetly find out what the girl is going to buy soon.
Guys, who consider themselves experts in fashion accessories, can buy their girlfriends a good bag, a nice belt, a purse or a make-up kit. If a girl complains all the time that she has no place to store jewelry, the perfect gift for her would be the most beautiful jewelry box with a variety of departments and a mirror.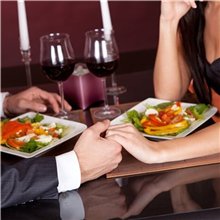 Gifts without money
The situations in life can be different and if this year you have no opportunity to buy the gift for the beloved on March 8, do not give up. You can make an unforgettable surprise by your hands. For example, bake a homemade cake, lay a beautiful bouquet of roses made of paper, decorate picture frame with a joint photo with coffee beans, draw a big congratulatory poster or prepare your own concert program of one or two soul songs.
Guys who can dance, can easily impress their girlfriends by a passionate dance with the elements of light (or not light) striptease, and those to whom God has not given special talents can just wear the darling in their arms, tell her compliments, make a declaration of love and release her on this day of all housework.
So what is the best gift for a girl on March 8?